Do you use Zimbra?
Do you have security problems?
Do you use Office 365?
Not receiving emails?
---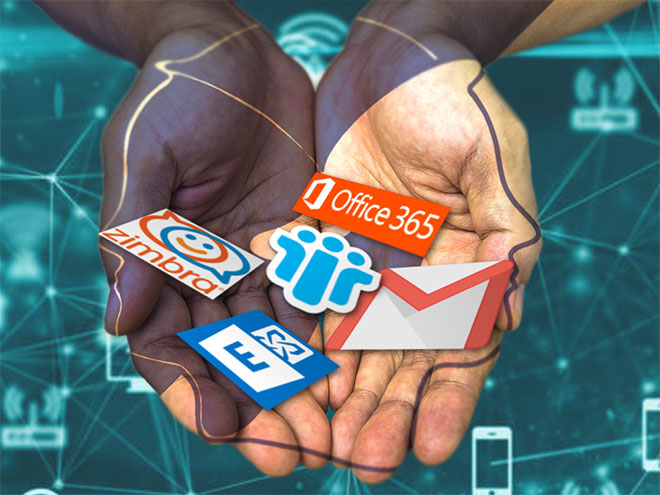 Janusmail is an advanced system designed to protect your company from the latest threats as well as from all the daily problems that slow down business productivity such as:
Spam
Phishing and fraud
Malware
Bulk email
The system can be perfectly integrated with the main electronic mail systems (Zimbra, IBM Lotus Domino, Office 365, Gmail, Microsoft Exchange).
Special additions are available for Zimbra mail systems.
Scroll down the page to discover the features of Janusmail or click here to discover the advanced integration with Zimbra.
---
100% of emails managed and delivery in less than 3 seconds
Janusmail performs all checks in record time and on 100% of emails, none is ever discarded!
The dubious emails are kept in special quarantines waiting to be unlocked by users or administrators according to their rights.
Furthermore, the Delayed Mail function allows you to postpone checks for dubious emails, giving anti-virus and blacklisting updates.
Unlike traditional greylist systems, it guarantees a certain maximum delivery time definable by policy.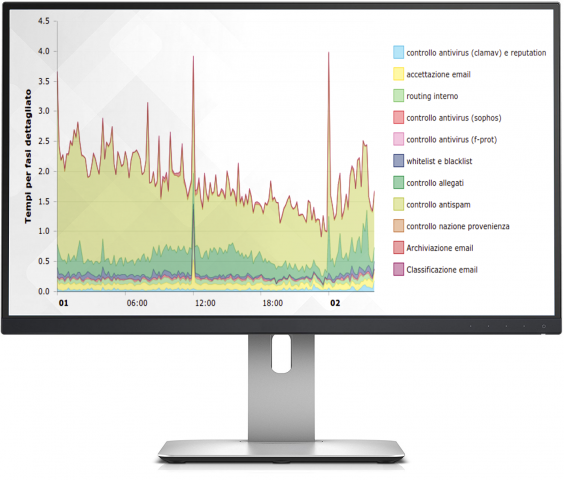 ---
FAREWELL TO SPAM AND PHISHING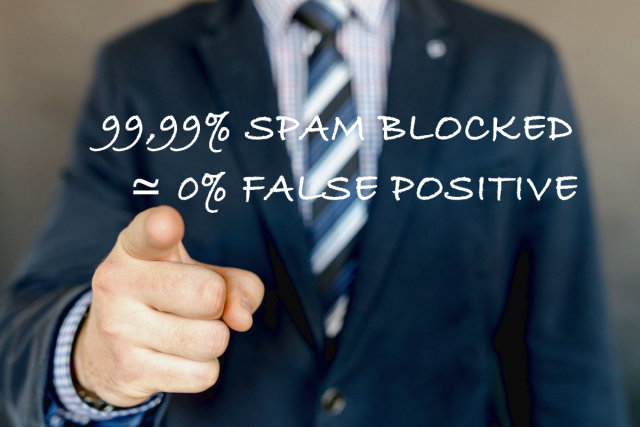 Multi-level checks carried out include:
Sender reputation (SPF, DKIM and DMARC)
Blacklist check
URL analysis
Bulk email
Collaborative systems
Janusmail filters are optimized to avoid redundant checks and optimize email delivery times. Why CHECK spam in an email where a virus has already been found?
Find out more about Janusmail's control and filtering systems.
---
FAREWELL TO VIRUS AND MALWARE
Most malware is spread via email. JANUSMAIL performs in-depth checks on incoming emails and identifies viruses, malware, dangerous files hidden in emails through 3 levels of verification:
control with multiple antivirus engines such as Clamav (with three different signature databases), Sophos, ESET, Total defense, Bitdefender and K7
identification of dangerous files through hash analysis of attachments with signatures constantly downloaded from different sources
more than 400 heuristic systems for recognizing dangerous attachments hidden in emails
Find out more about the powerful analysis tools used by Janusmail for controls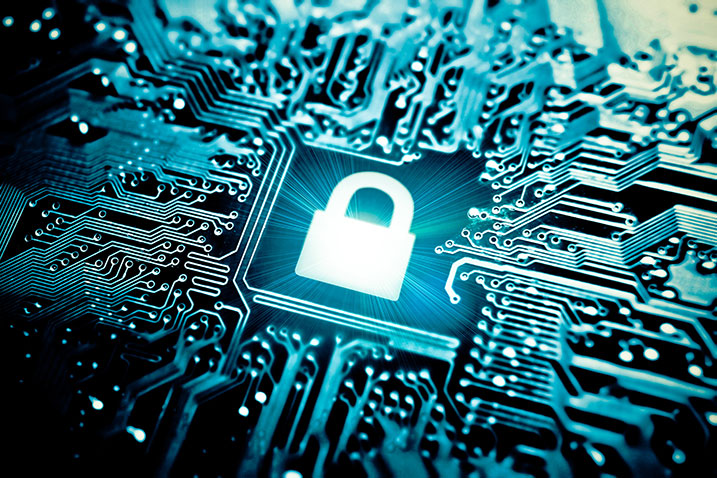 ---
SUCCESSIVE REPORTING OF DANGEROUS EMAILS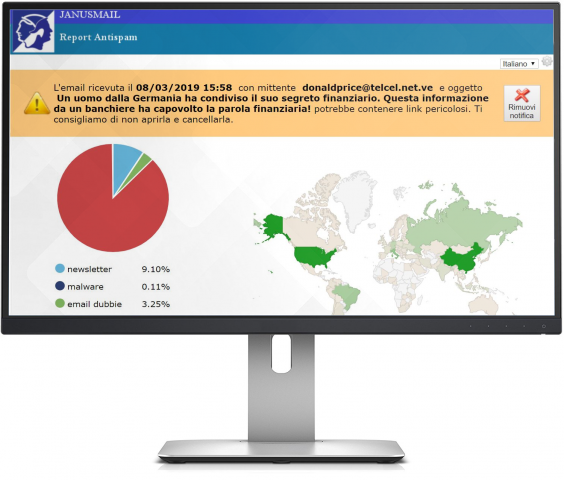 It may happen that an email is received with an attachment containing a malware or a URL not yet identified and therefore able to escape the security filters.
When these threats are identified, they are immediately reported through the ANTISPAM report, and are advised not to open the attachment.
---
BLACKLIST FREE & DELIVERABILITY
Janusmail prevents the risk of blacklisting domains and IP addresses and contributes to the deliverability of emails, through 3 key functions:
Sent email volume monitor
monitors emails sent by a single user and domain and blocks them if they exceed the limit
Diversified IP
Janusmail uses different IP addresses to send various clients' emails so as to avoid excessive mailings from the same address and ensure that, if an address ends up blacklisting, it will not cause disruptions to all users.
IP monitor
We automatically monitor more than 100 blacklists several times a day to always ensure a "clean" IP for sending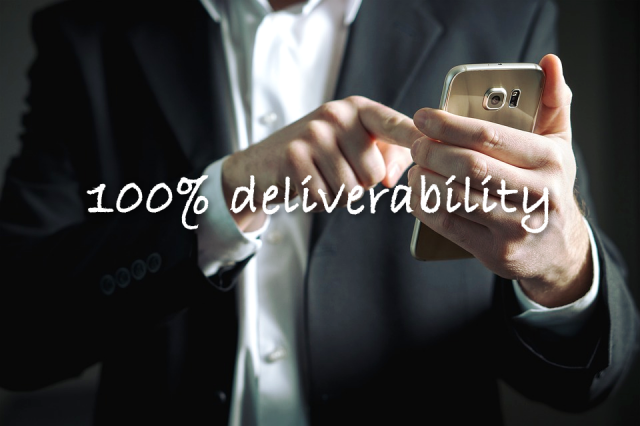 ---
IMPROVE THE REPUTATION OF YOUR EMAILS AND YOUR DOMAIN
Janusmail will guide you, in the configuration phase of a domain, in easily implementing the sender reputation systems SPF, DKIM and DMARC.
Janusmal implements different systems to improve the reputation, in particular:
Sign the emails sent with DKIM
Reject emails addressed to non-existent users without sending emails
Does not respond to problems with other emails (bounce emails, double bounce emails)
Check and possibly limit the volume of emails sent
---
CUSTOMIZABLE POLICIES AND REDUCTION OF POSITIVE FALSE
Most email security systems have rigid and non-modifiable policies.
JANUSMAIL allows creating customized policies for filtering emails both inbound and outbound.
Policies can be entered, for example, to limit the size of emails, to quarantine suspicious emails and much more.
Janusmail also has an automatic whitelist function that drastically reduces the false positives of the anti spam: the system automatically adds Whitelist the addresses of the recipients of the email and makes sure that the messages coming from these addresses are never blocked.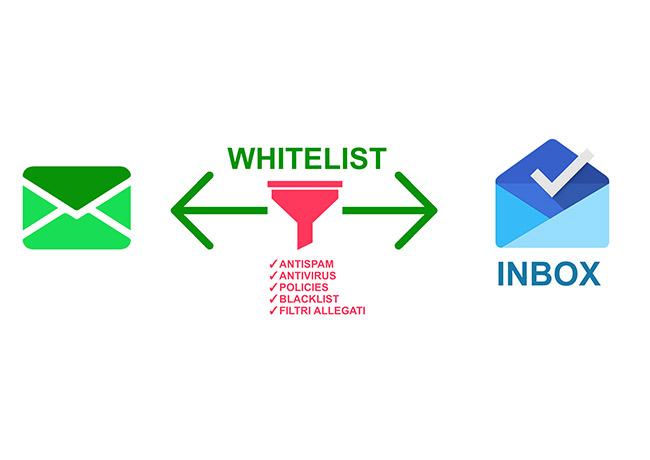 ---
SIMPLE AND COMPLETE MANAGEMENT CONSOLE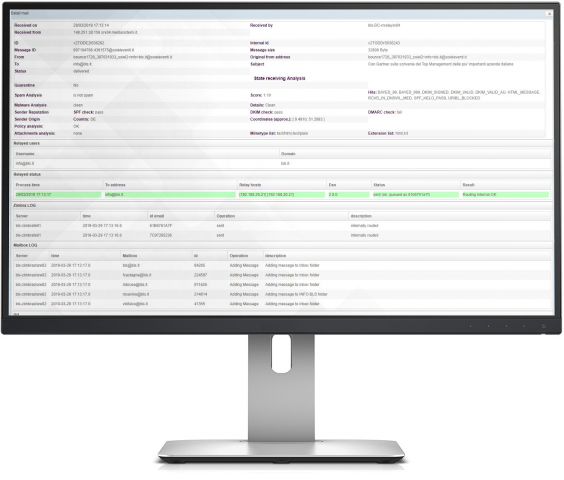 Janusmail is equipped with a simple and intuitive management console from which it is possible:
Obtain a very detailed report on each email, which describes the path, the reason for a possible blockage and the delivery to the recipient server
Request unlocking or insertion of senders in whitelist
Users can independently decide whether to receive newsletters and activate / deactivate quarantine systems.
From the same console the administrators can also manage the emails of the users who administer and independently download the detailed logs of an email.
Find out more about the janusmail console
---
ANTI SPAM REPORT
Janusmail users can receive, at a rate defined by the administrator, a summary report of emails blocked by the system because they are recognized as spam or dangerous. The user can ask for the inclusion of an address in whitelist, ask for the unblocking of emails incorrectly blocked by spam.
The report indicates the geographical origin of the blocked emails, classifies them as low spam, spam, newsletters and malware and groups them by sender, in order to facilitate the reading of the report.
The report is multilingual, currently Italian and English and the format is customizable.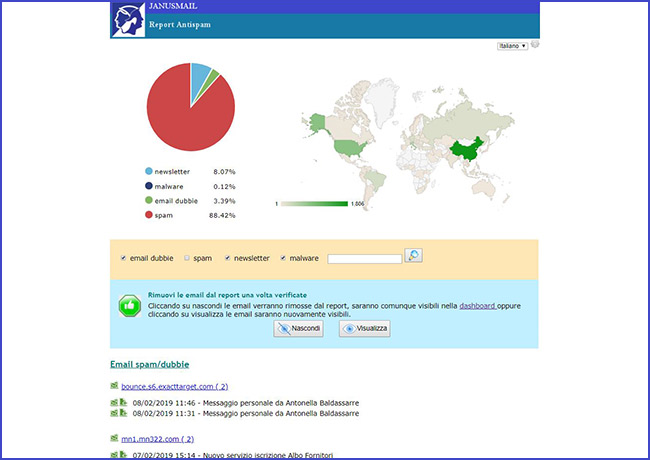 ---
LOGICAL SEPARATION BETWEEN MAIL RELAY ENTERING AND EXITING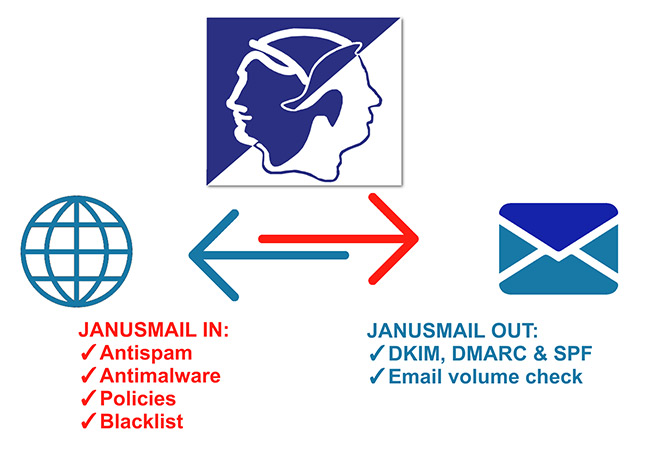 Janusmail is logically divided between incoming and outgoing mail relays.
Security and antispam checks are obviously implemented only for incoming emails.
While for outgoing emails systems are implemented that identify compromises of accounts and anomalous volumes of emails sent, blocking the individual sender within a few minutes.
---
READY FOR THE FUTURE
Janusmail applies the IPv6 protocol for receiving emails without forcing you to implement it on your email server.
It allows you to receive mail even with the new protocol and turn it over using the traditional IPv4 protocol to the mail server.
This feature opens you to the protocols of the future without forcing you to expensive and sometimes impossible implementations of IPv6 on your systems.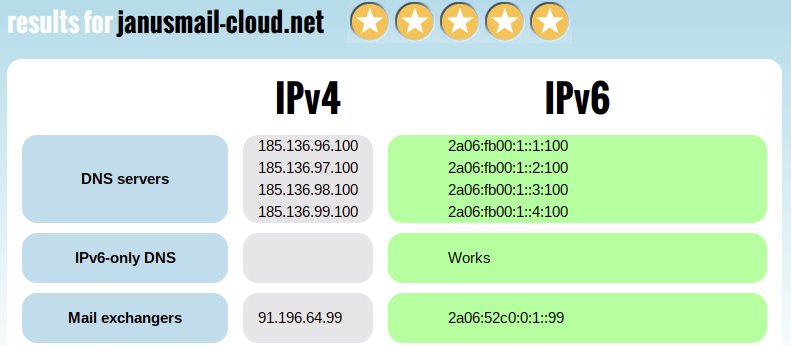 ---
ADVANCED SECURITY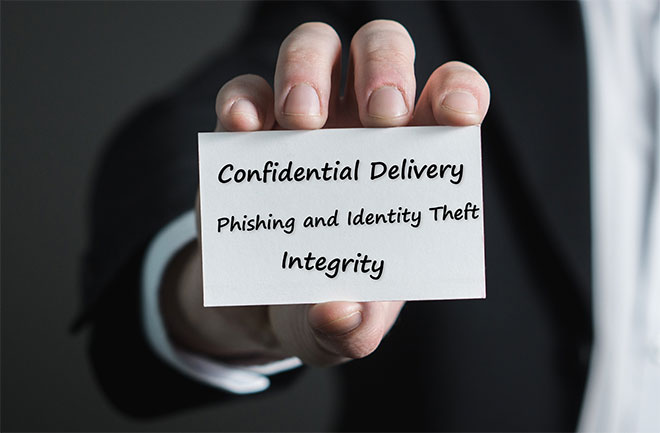 Janusmail is one of the few mailrelays that applies all the modern security protocols, in particular:
TLS 1.3
Domain Name System Security Extensions (DNSSEC)
DNS-based Authentication and Named Entities (DANE)
MTA Strict Transport Security (MTA-STS)
The implementation of these functionalities allows to reach the maximum score in the three categories foreseen by the assessment of the European Commission's electronic mail systems.